LATEST NEWS AND UPDATES for PC Replay Baseball Game Owners
May 2019
Version 4.6.3.8 Update for Version 4 game owners who installed Version 4 before this date
This update introduces the latest new features, and also addresses issues reported since the previous update; also includes data for our most recently published seasons.

2017 parks update to install images for new parks in 2017
This zipped file bundle includes images for the new ballpark in Atlanta and the renamed park in Chicago. Includes PDF instructions on installing these images in your game folders.

Support for V4.6
If you have any technical problems in running the game, please e-mail Richard at PC support.
You can also often find help and answers to common questions on the PC Replay Baseball Forum.

If you do find anything amiss when using the program, please let us know - it is invaluable feedback for us to continue to improve the product.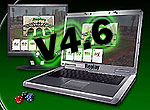 PC Replay Baseball Version 4.6

V4.6 is a free update for V4 owners
and $24.95 for V3 or older version owners.
If you have V3 on your PC, V4.6 will install separately without overwriting Version 3.
!!! IMPORTANT !!!
1. You MUST have Microsoft .NET Framework 4 Client Profile
installed on your computer to run PC Replay Baseball Version 4.6.

If you wish to import existing replay projects from V3 to V4.6,
you must also have v312 update for V3 installed (please scroll down for more info).

Please click here for more info before downloading.
2. Click here to download Version 4.6
to try before you buy!
PC Replay Baseball V3 or older version owners can buy V4.6 for $24.95.
When you purchase and register Version 4.6, all of the seasons you own
will register in Version 4.6 (no need to buy them again for Version 4.6).

PC Replay Baseball Version 3 older version owners can buy V4.6 here:
$24.95
(Season not included.)
November 2013
VERSION 3.13 Update for Version 3
This download is the final update to V3 that is required for importing any existing Version 3 season projects to Version 4, and also includes data for the most recently published V3 seasons.

IMPORTANT! - When importing existing projects to Version 4, if you have any ongoing or completed season replays then you must complete any individual saved games or games waiting to be scored. Any in-progress games will be deleted during the import process.

We also recommend that you make a backup of each season in Version 3 prior to importing.
To do this, open Version 3, right-click the season and select backup. You should also consider saving the created zip file (in the \backup directory) to a safe place. This will ensure that your replays are safe.

1) To install Version 3.1.3 update above:

a. Save the file (PCReplayBaseballV306.exe) to your PC.
b. If you are running Windows 7 or Vista, then right-click the exe file and select 'Run as Administrator' from the menu which appears.
c. If you are not running Windows 7 or Vista then simply double-click the file to install.